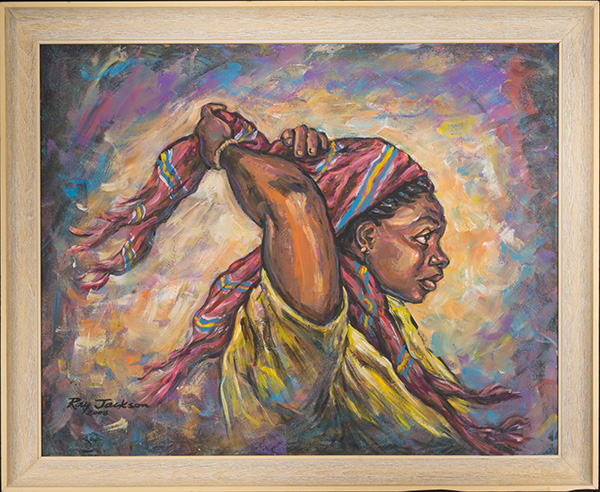 Main Gallery: JAMAICAN ARTIST RAYMOND JACKSON
Author Ernest Hemingway said, "It is good to have an end to journey toward; but it is the journey that matters, in the end."
Artist Raymond Jackson said, "It is the love of this land that drives me, and being an artist is a lifelong profession. You don't retire, but you journey on." The ACWC invites you to come and experience this artist's journey with the opening of his exhibition, Jamaican Treasures, in the Main Gallery on August 5.
Ray Jackson is regarded as one of Jamaica's most distinguished and sought-after portrait pastel artists. His signature technique of using hands instead of paintbrushes creates vibrant, vivid portraits and landscapes that document the Jamaican landscape and its people. Ray has traveled across the island for over 30 years observing people, photographing places and then, as he likes to say, "recording them."
Come celebrate another of our 2016 Small World themed events at the opening reception of this exhibition on Friday, August 5 at 6:30 pm to experience Jamaican food, music, and island art. Yeah Man!
---
Summer Exhibits in ACWC Satellite Galleries

WCCH REHAB CENTER (Warsaw) 
Rachel Richter

EAGLE FREE LIBRARY (Bliss)
Judy Bufano

STEVENS MEMORIAL LIBRARY (Attica) 
Ted Wetherbee

ZECHES FURNITURE (Warsaw)
Canyon Camera Club

LETCHWORTH CABLE ACCESS (Perry)
Mary Beth Kushner, C. Shanahan & Gary Baxter 

WARSAW PUBLIC LIBRARY (Warsaw)
Cheryl Leonard Van Denburg & Phil Hewitt
WYOMING COUNTY OFFICE FOR THE AGING (Warsaw)
Phil Hewitt

WYOMING COUNTY YMCA (Warsaw) 
Rich Gouinlock
HOLE IN THE WALL (Perry)
Sandra Tyler
FIVE STAR BANK (Warsaw)
Promotion of the current exhibit in the ACWC Main Gallery
BANK OF CASTILE (Warsaw)
Ted Wetherbee
One Lake Street 2nd Floor
JQ

Please note: schedule is subject to change.